Virginia Theatre Information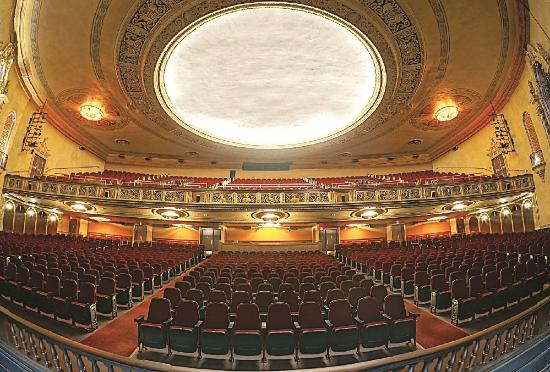 Few existing theatres and movie houses have a history quite like Champaign's Virginia Theatre. The theatre first opened on December 28, 1921, with a live stage performance of "The Bat", followed by a viewing of the silent films Tol'able David and The Boat. These two events marked the start of a tradition that has held to this very day of Virginia Theatre is the home of some of the biggest live shows and film viewings on either side of the country. The theatre remained a fixture in Champaign, Illinois with only a few brief periods of closings for renovations by the Park District.
The theatre was privately owned for much of its existence, with RKO pictures holding ownership from the 1930s to the 1960s, following a period of ownership by George Kerasotes Corporation (GKC Theatres). The Virginia Theatre Group, a non-profit organization, took control of the theatre after GKC Theatres sold it in the 1990s. Finally, The Champaign Park District purchased the theatre in January of 2000.
The theatre was then added to the National Register of Historic Places in 2003 based on its role in providing entertainment to Champaign and surrounding areas, especially during the period from 1921 to 1953. This decision was also supported by the building's preservation that kept much of its original design and integrity keeping it to its early 20th century roots. This preservation and its value to the Champaign community are all thanks to how Virginia Theatre avoided renovating the venue, preferring to restore it instead.
In December 1999, the Champaign Park District received a $900,000 grant from the State of Illinois to restore the, then run-down theatre. This money was used to bring the building up to code while preserving much of its original design. Instead of the curved movie screen that was in place for decades, a smaller screen which could be flown offstage was installed. Additional bathrooms were installed in 2001 and complete renovations and remodeling were made on the box office, dressing rooms, and carpeting in the early 2000s. The lobby, storefront, and concession stands were renovated and redecorated in 2010 with help from donations from Michael Carragher. The only major change that was made was replacing the old 1930's-era neon marquee with a newly designed marquee in September 2011.
If you order tickets to an upcoming event or show at Virginia Theatre, you are one step closer to taking a trip through time to experience what theatrical and movie experiences were like in the early 20th century.
Below are useful pages for further information on the Virginia Theatre:
Virginia Theatre Parking:
Read latest parking options and rules at the Virginia Theatre.
Ticket Policies:
Read the latest industry leading ticket guarantee and ticket authenticity policies when purchasing from tickets via this website.
Virginia Theatre Seating Chart:
View the Virginia Theatre seating chart and read latest information on the various seating options.